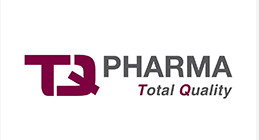 LAUNCHED IN 2012
TQ Pharma is one of the most technologically advanced manufacturing companies of high quality drugs based in Amman - Jordan.
TQ as Total Quality
Total quality to TQ Pharma means:
Professional employees and management, well-equipped technical departments up to international current Good Manufacturing Practice (cGMP), state of the art manufacturing site and a proactive, customer-oriented company on a quest to perfection.
And this will be the base for our mission to create value in all dimensions of health care to serve patients, medical professionals and the communities where we operate.
A stat of the art Building consist of 3 floors with a total area of 20,000 m², TQ Pharma manufactures, distributes, and promotes a wide range of high quality generics and in-licensed pharmaceutical products covering key therapeutic areas with adheres to a holistic marketing approach distinguished by a professional code of ethics, and governed by a policy of Total Quality and a quest to perfection.
In consistence with the latest technical and scientific achievements in the pharmaceutical industry world-wide and with an open manufacturing strategy, we are committed to delivering a premium quality medicine in different dosage forms to cover all patients' needs and to help in achieving and upholding a regional acceptable level of self-sufficiency in the health services sector.
We aim to continuously meet the increasing demands of the local and regional health care sectors.
TQ Pharma's manufacturing facilities strictly adhere to the local and international cGMP guidelines. Our company's commitment to high quality has led us to obtain cGMP certification from the Jordan FDA and GCC authorities.
For more information, please visit their website: https://tqpharma.com/index.php
Members logo