Jordan River Pharmaceutical Industries L.L.C. (Joriver)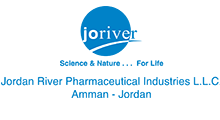 Jordan River Pharmaceuticals (JoRiver) is a limited liability company that was established in 1999 in Mobis, Jordan. JoRiver develops and manufactures a wide range of more than 50 pharmaceutical products in compliance with international Good Manufacturing Practice (GMP) guidelines and procedures; as well as The Total Quality Management (TQM).
Also, JoRiver facilities gained Jordan Food and Drug Administration (FDA), ISO 9001 and ISO 14001 accreditations. Moreover, JoRiver obtained GMP certificates from a number of countries including Gulf Cooperation Council (GCC), Jordan, KSA, UAE, Kuwait, Qatar, Bahrain, Oman, Iraq, Lebanon, Palestine, Sudan, Ethiopia, Libya and Algeria. To this end, the factory is reinforced by qualified competent staff and well-equipped departments.
JoRiver has more than 100 employees from different disciplines including pharmacy, engineering, life sciences, and chemistry among others. JoRiver is organized into eight departments namely production and planning; quality assurance and quality control; maintenance; research and development; regulatory affair; finance and administration; sales and marketing; and management.
Last but not least, JoRiver has three main production lines: (i) solid manufacturing; (ii) liquid manufacturing; and (iii) semi-solid manufacturing. JoRiver markets its medicinal products in more than 14 countries including Jordan; GCC countries (KSA, UAE, Oman, Bahrain, Kuwait, and Qatar); Yemen; Lebanon; Algeria; Ethiopia; Sudan; and Iraq among others.
JoRiver aspires to be one of the local and regional leading pharmaceutical companies that produce the number one choice of high quality and safe drugs with the highest efficacy.
For more information, please visit their website: https://www.jepharm.ps/
Members logo