Amman Pharmaceutical Industries (API)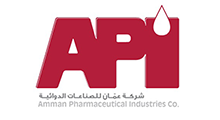 Amman Pharmaceutical Industries (API) was established in 1989 as one of the first pharmaceutical companies in the MENA region to pioneer the production of niche branded generics in the therapeutic areas of  Ophthalmology, ENT (Ear, Nose & Throat ) , respiratory, and Dermatology. After many years of success, API is still focused on its differentiator and proud to be a leader in the MENA region having expanded into 7 production lines producing +140 registered products, exporting to +27 markets globally, and employing +200 employees in Jordan and the region.
The company has a manufacturing plant which is located in Amman, Jordan over 5,000 m² of land and specializes in the development and production of both its own products and others' on contract manufacturing or out-licensing basis. API's plant is a state of the art facility which is able to manufacture more than 100 Million units per year in various forms and doses. This manufacturing site has an exceptional compliance history with national, regional, and international regulatory agencies and has always maintained to receive full accreditations and certifications namely: ISO 9001-2008, cGMP from local authorities and various other countries in MENA and Africa, CE, GCC FDA, WHO, MEDAIR, IMC, and others.
For more information, please visit their website: https://www.ammanpharma.com/content/about
Members logo